Carolyn Ellingson - Artist Biography
NOTE: Carolyn died from mesothelioma in 2002. This is her biography as she posted it before she fell ill (minus mailing address info).
Carolyn Ellingson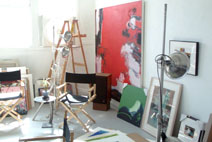 Fine Art in Studio
Studio: Hunter's Point Shipyard
San Francisco, CA 94122
Building 101, Studio 1202

I represent myself and control my own pricing and sales
Collections (selected)
Elaine Bild, Attny., Seattle
San Francisco Bar Association
Malcolm Gissen and Judith Cohen, San Francisco
Inhale Therapeutic Systems
John and Jamie Patton, Portola Valley, CA
Don Ploof and Kera Alexander, Half Moon Bay
Kaiser Permanente of Northern California
Danielle Steel San Francisco
First Nationwide Bank, San Francisco
Rinna Flohr, Berkeley
Neimann-Marcus, San Francisco Nordstrom, Seattle
Susan Scherman, Attorney, San Francisco
Jim Marzo, Interior Designer, San Francisco
Delancey Street Port of San Francisco
And others too numerous to mention.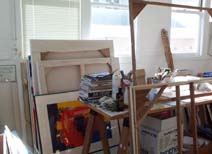 In the Studio
Exhibitions
I presently exhibit my work only in my own studio (twice a year) at Hunter's Point Shipyard, SF, CA, online at www.artgroove.com and occasionally on auction sites on the Internet.
In the past I have exhibited at:
Nor West Bank, SF, CA Embarcadero 3
Open Studio Citywide Show, SF
CA Sally's, San Francisco
CA Cafe Adriano, Sf, CA
Sebastopol Center for the Arts, Sebastopol, CA
Mission Cultural Center, SF, CA
CA Society of Printmakers, SF CA
Live Art Gallery, SF, CA
IAI Juried Fine Art Show, Fall River Mills, CA
Judith Litvich Fine Arts, Showplace Square, SF, CA
Bayview-Hunter's Point Adult Day Health Center, SF, CA
1993 Solo Calendar Artist, VISA, USA, Inc.
Piemonte Oveste Restaurant, Oakland, CA
Atrium Exhibition, T. Marquardt, Santa Rosa, CA
Artworks Gallery, Fair Oaks, CA
In the Studio
Mulnomah Co. Library, Portland, OR
Indiana University Southeast, New Albany, IN
Henry Ford Community College, Dearborn, MI
Editions Limited, SF, CA
Louisville Annual Juried Art Show, Louisville CO
Shore Art Gallery, A. C. Univ. Abeline, TX
Baylor University, Waco, TX
San Diego Art Institute 36th Annual National Juried Exhibition
3COM Corporation Art Show, Santa Clara, CA
Zocalo Gallery, SF, CA
Artspace Gallery, Las Vegas, NV
Live Art Gallery, SF, CA
Barlett Gallery, Pleasanton, CA
Fillamento, SF, CA Graphix, Mill Valley, CA
Artifacts, SF, CA
Gensler & Associates, Inc., San Jose, CA
Facets, Carmel, CA
By Design, SF, CA
Lumina Gallery, SF, CA
Gallery Sanchez, SF, CA
Marin Society of Artists, Kentfield, CA
Annual Marin County Fair, San Rafael
Southern Exposure Gallery, SF
Fort Mason Art Center Gallery, SF, CA
SF Women Artists Gallery, SF, CA
LIMN Gallery, SF, CA
Noe Valley Art Association, SF, CA
CCAC, Oakland, CA
Winn Corporation, Seattle, CA
---
Personal Information:
Born in Chicago, lived in Chicago and Minneapolis before coming to San Francisco in 1983.
Education:
University of Minnesota (MPH and BAS includiing studio arts education)
Continuing Education:
California College of Arts & Crafts, City College of San Francisco, Michael Bell Foundation Program, Toby Klayman Business Art, Fort Mason Printmaking, Learn-it! Website Design
Teaching Experience:
Between 1976 and 1981 at the University of Minnesota created, implemented and taught art and directed art therapy program for adolescents based upon behavioral objectives.
Current Professional Affiliations:
Hunter's Point Shipyard Printmakers